Batteries
(please read PART 1 regarding Brands of cells and Weigth)
 3. Range (mileage)
There are many questions regarding the range (mileage) of the bikes. A factory setting for a most powerful bike makes for a great fun riding experience. And that is still very much the MATE X experience you can get. However this has an impact on the range due to higher energy consumption. You can change your settings ongoing for different occasions and moods. So, if you want longer range (mileage) for your everyday commute, here are some suggestions for you:
* Set max current at 20Amps for 750W and 15Amps for 250W
* Set max speed to your legal limit
* Ensure tire setting to 24"
* Make sure to pedal when using the bike and don't keep bike assist level at maximum all the time
* If you have a throttle use it in limited bursts
* Please test your brakes by first lifting front end of bike to see if front wheel turns freely. Then lift the back end to test rear wheel. If any of the wheels are not turning freely, you need to adjust your brakes.
Please visit https://helpdesk.mate.bike/ and watch the applicable "Brake Adjustment" video depending on whether you have hydraulic or mechanical brakes.
The great advantage of the MATE X is that you can customise your settings to your needs and desires. A more detailed guide will be shared on Helpdesk shortly with several settings suggestions and tweaks.
Helpdesk
We have had so many inquiries with our Customer Service team, and although we have a really good team ready to service you we have not been able to reply as quickly as we want to on all inquiries.
A few stats for you: Last week the team did manage to get back to just over 1,200 inquiries. Many on the exact location of the bike but given the size of our project also just many other inquiries across a whole range of subjects.
Although we can't give personalised replies to all it's very much our wish to be able to service each and every one of you.
As a measure to continue to support our MATE BIKE community now and in the future we have launched a HelpDesk which you can access directly from our website https://helpdesk.mate.bike/
The biggest value add item for you guys on the HelpDesk right now is the new How-to videos we have uploaded that provide a lot of tips and tricks!
We hope you see the HelpDesk as our serious effort to build a MATE.Community now and for the future! We all shared a dream and we will continue to work hard to make it a reality for many years to come.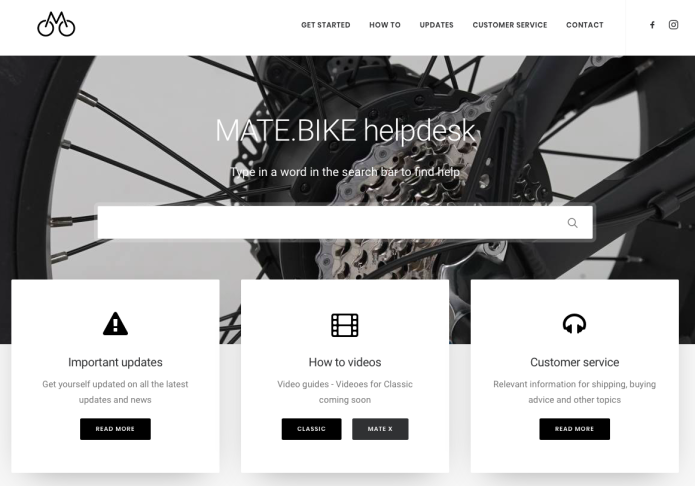 If you have any feedback or suggestions for us, please write to us at hello@mate.bike with the headline "Helpdesk input".  We look forward to hearing from you.
Please continue to read the next update for futher information on
– Production
– Shipping
– Spare Parts ……..